By: Lyra Shines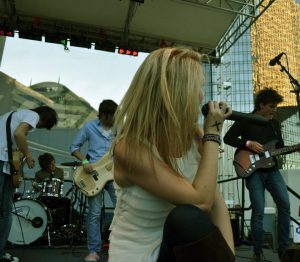 How to stay inspired:
ALWAYS look for new music. Its cool to have favorite bands but that can get stale over a while. If you want your music to be good, keeping digging for new tunes. Also go to as many live shows as possible. Live music can get any down trodden musician out of a rut. If you go to a good show, your gonna wanna pick up your instrument right when you get home.
Fav. Gear:
Our favorite instruments are all Fender. The look and sound are just awesome. We also use custom made pedals (www.cheeseblockseffects.com)
Distribute/Promote:
We currently sell our music at shows and online (itunes, cd baby etc…). We also promote our music in all the typical fashions, myspace/facebook/purevolume. As for promoting live, we try to play out as much as possible, but not always in the same location. The more you play is great, but if its at the same venue, like every week, your show attendance will plummet and your fan base will never grow. Take a foothold in your local scene then start expanding, either through moving from town to town our full blown touring.
Make a Living:
Making money with music for a living is a more or less a difficult thing. Don't expect to get paid hundreds or thousands of dollars right away. But always pursue want you want to do in music and mabey one day you can afford to kinda pay the rent haha.
Press Releases:
Press releases will help immensly. But make sure you do it right. In your package make sure you have quality photos, a decent bio of the band, some recordings (make sure they're somewhat recorded well, you can have the greatest songs in the world, but if the recording quality sucks, no one will listen to it.). If you want people to think your legit, act like it!
Band Practice:
Practice doesn't make perfect, perfect practice makes perfect. Take you band practices seriuosly. Try and limit as many non band members as possible, turn off your phones, and FOCUS ON YOUR MUSIC. When you play live people will notice how much effort you put into your songs. Set a practice scheduel, this has help us greatly. Also indivdually practice your respective instrument at home, don't just leave it at the practice space.
Book: Harry Potter (all of them!)
Gear: Fender guitars, cheeseblock pedals, skinny jeans, v- neck shirts.
Road Item: Couldn't live with out the ipod, gameboy, and empty bottles (sometimes ya hit long distances with no rest stop, ya know?)
www.twitter.com/lyrashinesband
Loading